Request:
Display correct number of decimals on number and currency fields based on the field's configuration in SharePoint.
Change:
Based on the currency and number field's configuration, the correct number of decimals will be displayed on the AKS database view.

Configuration on SharePoint field
Field displayed on AKS database view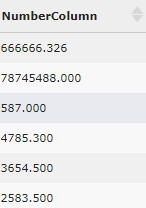 Notes:
Change only applies to number and currency fields.
The change is only visible on the AKS database view.