Fix to display Groups on the content tile for the Expert field
Overview
This change will allow a SharePoint Group to be used as the Expert on a piece of content and will send the relevant notifications to the users of the selected group. The Group will also be displayed on the content tile.
Applicable Areas:
Knowledge Source
Approval Tasks
Fix to the order sorting options on Title/Relevance in Project Point
Overview
This fix will enable a user to change the sort order of the Project Point Search Results using the arrow button on the right of the Sort by type.

Applicable Areas:
Project Point Search
Added the "comma" to the list of restricted special characters in File Names
Overview
The system currently allows a document to be created with a comma in the document name. However, when a user tries to download the same document, an error is thrown caused by the comma in the document name.
This change will disallow the use of a comma in the name of the document to ensure it can be used afterwards.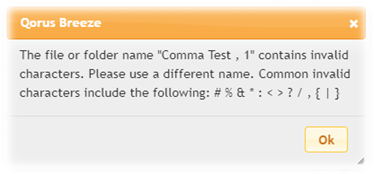 Applicable Areas:
Project Documents
Fix to Guided Cart "Next" and "Previous" buttons
Overview
The Previous (Prev) and Next buttons on the guided cart does not work in the current version of Breeze. The purpose of these buttons is take you to the previous or next available section on the left of the panel.
This bug fix will enable the use of the Prev and Next buttons as they were intended.
Applicable Areas:
Guided Cart
Fix to the display of multi-user People Picker fields
Overview
In some browsers, the Multi-User fields on the Project form does not show correctly:

This change will ensure the users display in a friendly way.

Applicable Areas:
Project Capture Form
Consistency Update – Organisation to Organization
Overview
This update ensures all uses of the word Organization is spelled using US English spelling to conform to the rest of the Breeze interface.
Applicable Areas:
All Web