Overview
Breeze version 2.4.5 Release 3 includes stabilization enhancements to the Project Point Search as well as new DocGen add-ins.
Project Point Search
Earlier versions of Breeze allowed users to set the search scope to either 'Search Projects' or 'Search Project Documents' or both.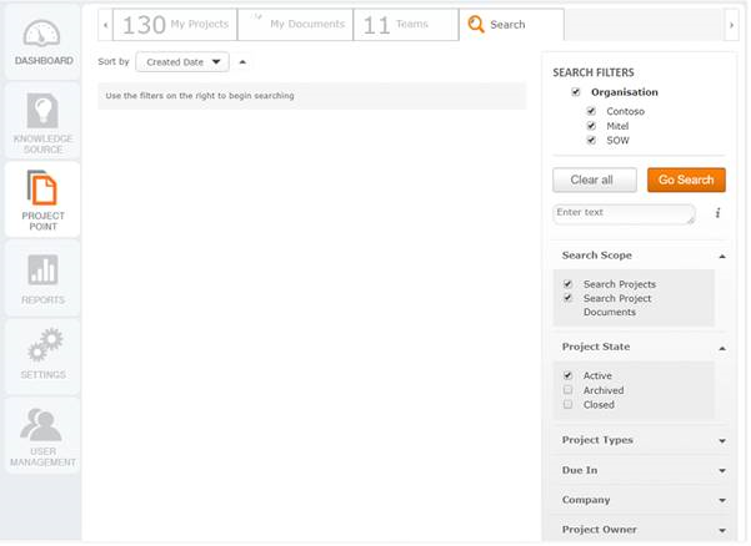 In this version of Breeze, users cannot select both 'Search Projects' and 'Search Project Documents' as the scope for a single search. Users can select 'Search Projects' or 'Search Project Documents' as the search scope, but not both.
The filter user interface does not introduce new visual changes, but the logic limits the user from making both selections when setting a search scope. When the user has 'Search Projects' selected and then selects 'Search Project Documents' the 'Search Projects' is automatically deselected and vice versa.
This change was implemented to address severe performance issues found in Breeze sites that contain large amounts of data.
When the user wants to execute a document search, they need to specify a search term in the search text box. If the user did not specify a search term, the following warning will be displayed.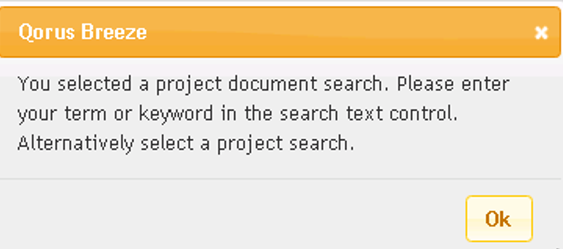 It is not mandatory for users to enter a search phrase when executing a project search.