The document owner (for a project document) has the option of Locking a document.
This functionality stops Project Team Members from editing parts of a document that is not allocated to them.
To lock a document:
While signed in as a document owner, click on the Allocations button in the Breeze panel.
1) Once you have created the necessary Allocations, note the Lock button on the Breeze Panel: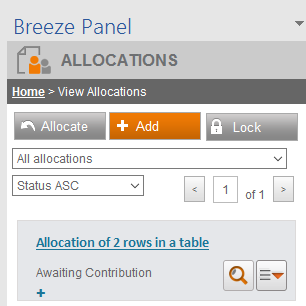 2) Click on the Lock; this will change the icon to the following, indicating that the document is now Locked:

While the document is locked
Only Allocated Sections can be edited by the Assignee, providing the assignee has logged into the Breeze panel when opening the document to edit the allocated section.
The Assignee will only have access to the sections allocated specifically to them.
Only the Document Owner will be able to Unlock the document; Any other user will see the following error if they try: