This functionality allows Document Owners to allocate work to Team members while restricting their access to the rest of the document.
Details
Private Allocations can be created using the existing Add Allocation Panel functionality and selecting an Internal Team Member as the Contributor, the ticking the "Private Allocation" check box.
This will display the Supporting Documents selection option which will display all Supporting Documents attached to the Project
Selecting 1 or more Supporting Documents will make the selected documents available to the designated Team Member when they open the assigned Private Allocation.
All other aspects of the Allocation creation process can be completed as per the current Allocations process. 
Private Allocations display the Private Allocation icon in the Project Allocations and Task tabs, as well as the Breeze Panel Allocations and Task views.

  Private Allocation icon
Once the Allocation has been allocated successfully the designated Team Member will receive an email informing them of the Allocation assigned to them.
This email will contain a hyperlink to the Web Contributions interface which will allow the user to provide their Contribution and when ready mark the Contribution as Complete.
The user will also see the associated Tasks in their Dashboard and when clicking on the Task they will be redirected to the Web Contribution page.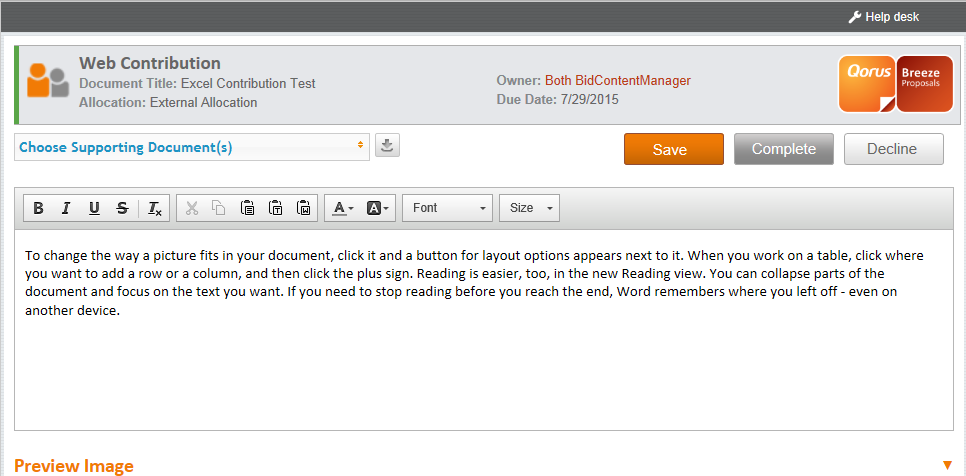 Note: This functionality will not restrict access to the Project if the user is not a Lite user, in order to completely restrict user access to the Project Document while providing Contributions they will need to be set as a Lite Bid user.
Private Allocation Limitations:
Only Rich text items are supported currently
Images are not supported
Tables are not supported currently
Objects such as smart art are not supported
Any non-supported item will result in a validation pop-up message