When content is first uploaded into the Knowledge Source, it is in a Draft state and has to go through an Approval Process for it to appear in the Knowledge Source search. After it has been Approved, any changes to content, or its properties, will send the content back into a draft state.
Proposal and Bid teams can only use the latest Approved Content version. This means that Content that has never been approved, cannot be used in Proposals.
To Submit Content for Approval:
1) Click the Knowledge Source  > Unapproved Content.
2) Click on the drop down arrow next to the document you would like to Submit for Approval and the select the option to Submit for Approval.  Only Draft and content that has not already been submitted for approval  can be submitted for Approval.





3) A message is displayed, advising you that the Content has been Submitted for Approval. Click 'Ok'.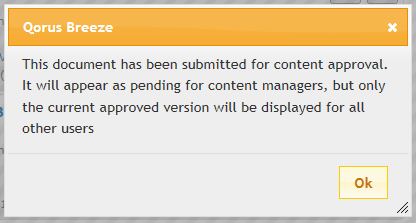 4) The Documents state is changed to Pending and an email is sent to all Content Managers, requesting document Approval. A Task is also added to the Task List of all Content Managers on the Dashboard.


Related Articles:
For help on Submitting Content for Expert Validation, please read the article here.