Breeze has been enhanced with the ability to search one or many custom External Content Sources. This functionality allows you to search for content in a SharePoint Environments outside of Breeze Proposals.
External content searches are available wherever a Knowledge Source search can be performed. Custom Filters can be configured, providing a more refined search of the External Content.
If External Content Searches have been enabled:
1) In the Knowledge Source, click on the down arrow next to Source.
2) Select the External Data Source - in the example, the 'Support - Data Centre' is a configured external data source.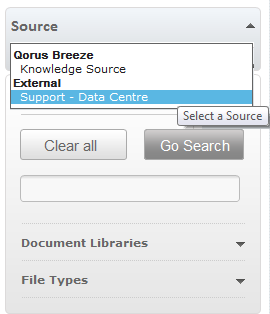 3) Enter a Search String (if required).
4) If there are search filters configured, you can select the appropriate Filters.
5) Click Go Search.
6) The information displayed in the results list can be configured to display a list of document specific properties (such as the document path).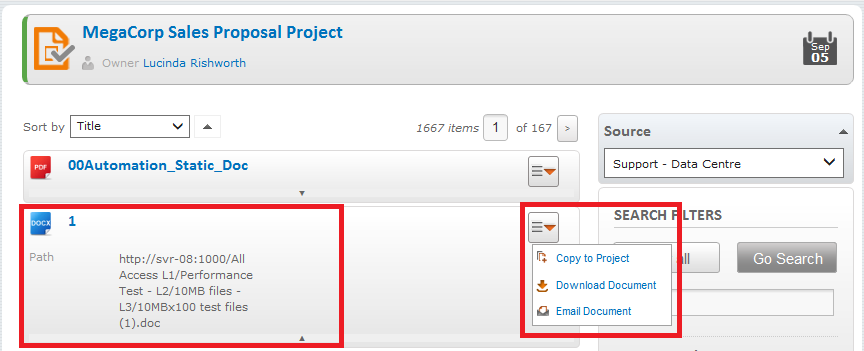 External content can be used in the following ways:
Copied to a Project as a project document (only applicable in a Knowledge Source search from within a Project).
Inserted into a document (Knowledge Source or Project) from within the Breeze Panel search.
Download Document.
Email Document.
Note: External Content Searches could, inadvertently, give a user access to content they would not have access to (if accessing the external SharePoint site directly).
Related Articles:
For more information on searching for content on the Knowledge Source, read the article located Here.