This article applies to:
Bid Managers
Bid Masters
Super Users
Creating a Proposal always requires the creation of a Project. A Project is made up out of one or more of the following sections (visible on the tab bar highlighted below):
Project Documents
Any Project Documents you may have created for this project (including Project Documents you check out after completing a Guided Cart) is saved here. From here you can also create Project Documents from a non-Guided Cart enabled template.
Allocations
This tab displays all Allocation tasks and activities for each and is visible to all team members of the project. Allocations can be filtered by Contributor, Reviewer and Allocation State.
Tasks
This tab displays all task activities, with due dates. This includes generic tasks, as well as contributor tasks, allocated to different team members you work with.
Supporting Documents
Any ad hoc documentation you would like to add to a specific project is stored here. An example of a supporting document could be a document you received from the prospective client.
Team Members
This section displays all the people who are collaborating on a project. From here team members can also be added and Project Teams can be created.
Project Cart
Saves any Guided Carts you may have created for this project. From here you can also create new Guided Carts from Guided Cart enabled templates.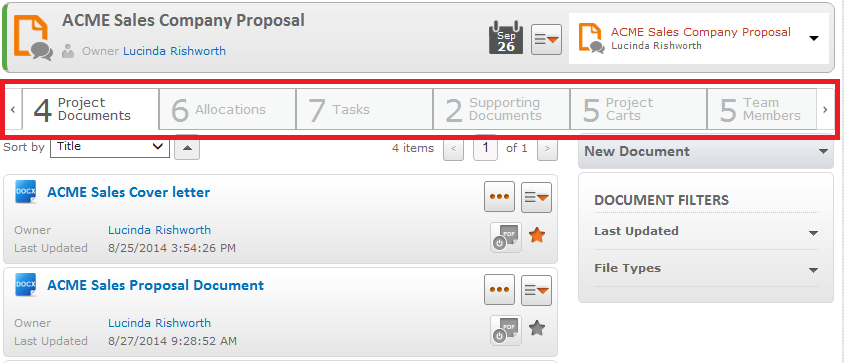 Related Articles:
For more information on Project Point, please read the articles located here.