This article touches on an error received when attempting to open a document from SharePoint. The error referred to can be one of the following:
Edit Document' requires a Windows SharePoint Services-compatible application.
The document could not be opened for editing. A Microsoft SharePoint Foundation compatible application could not be found to edit the document.
To open this workbook, your computer must be running a supported version of Microsoft Office application and a browser that supports opening files directly from the Office Web Apps
Currently, the issue is a result of more than one Office version installed on a local machine. It does not affect a whole suite for instance Office 2013 and Lync 2013 and Visio 2013 installed together but rather when you install Visio 2007, Office 2013, Office 2010 and Lync 2013.
It also occurs when you have many different versions of the OWSSUPP DLL available and not properly registered.  This .dll file links to your SharePoint OpenDocument Class internet Explorer Add-On and is the integrated Add-On for opening documents from SharePoint.
How to Check the Version
Open your Internet Explorer when the error is showing
Click on Tools > Manage Add-Ons
Click on "SharePoint OpenDocument Class"
Here you can confirm which version exists:
12.0 – Office 2007
14.0 – Office 2010
15.0 – Office 2013
NOTE: Can't See the SharePoint OpenDocument Class Add-On? Select the option to "Run without permission" (See Below)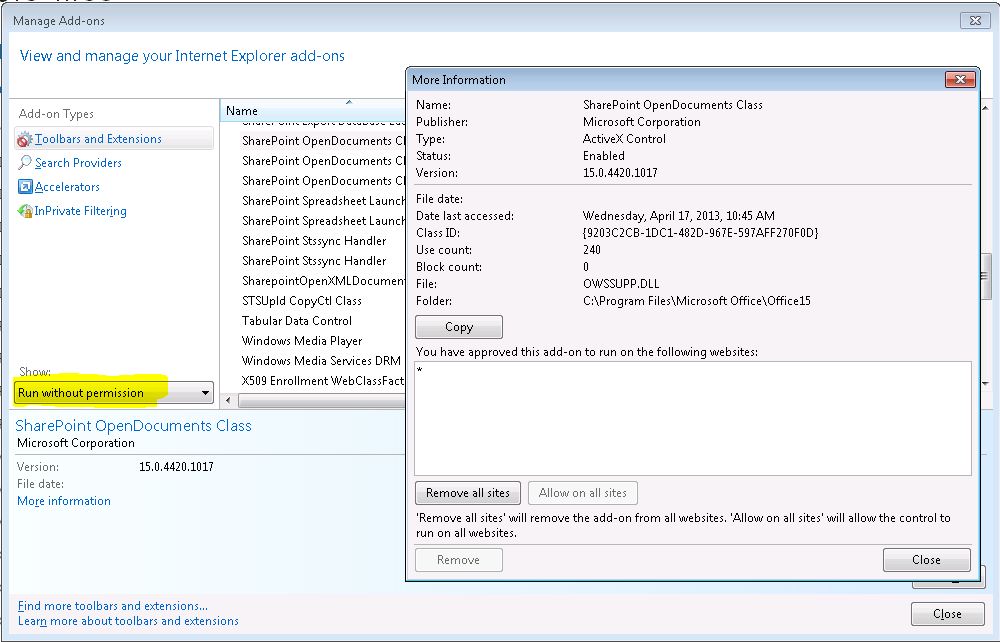 Steps to Resolve
For this issue to be resovled you need to first disable Microsoft SharePoint Foundation Support in any other versions of Office and then immediately repair Office. Steps below describe how to achieve this.
To Uninstall 'Microsoft SharePoint Foundation Support' for all versions of office that is not the current version follows the steps below:
For Windows XP:
Go to Control Panel > Add/Remove Programs
All applications installed that are not the current version of Office need to be removed. Select the item and click Change, Choose Add or Remove Features. Click Continue
In Installation Options, expand Office Tools, Click Windows SharePoint Service Support OR Microsoft SharePoint Foundation Support, Choose Not Available, Click Continue. You must do this for all Office programs that are not Office 2010 including earlier versions of Office Project or Visio.
Once configuration is complete, In Add Remove Programs, click Office 2010, click Change, Choose Repair, Click Continue. (Note: A reboot will be required after the Repair completes)
For Vista/Windows 7
Go to Control Panel, Programs, Uninstall a Program.
For each Office program that is not an Office 2010 program, select the item and click Change, Choose Add or Remove Features, Click Continue.
In Installation Options, expand Office Tools, Click Windows SharePoint Service Support OR Microsoft SharePoint Foundation Support, Choose Not Available, Click Continue. You must do this for all Office family programs that are not Office 2010 including earlier versions of Office Project or Visio.
Once configuration is complete, in Programs, click Office 2010, click Change, Choose Repair, Click Continue. (Note: A reboot will be required after the Repair completes)