This functionality Allows Bid Managers to allocate work from Excel documents.
Details
Excel Allocations are created by opening an Excel Project document and then selecting the Allocation > Add options (as per existing Allocation functionality). This will open the Excel Allocation interface.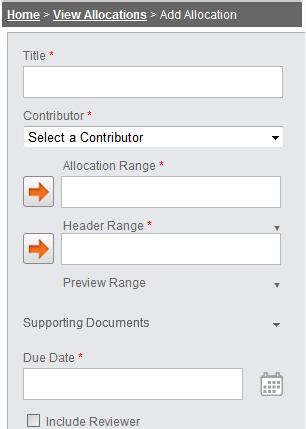 All other aspects of the Allocation creation process can be completed as per the current Allocations process and once the Allocation has been allocated successfully the designated Contributor will receive an email informing them of the Allocation assigned to them.
This email will contain a hyperlink to the Web Contributions interface which will allow the user to provide their Contribution and when ready mark the Contribution as Complete.
The user will also see the associated Tasks in their Dashboard or Project.

When clicking on the Task they will be redirected to the Web Contribution page.

Excel Allocation Limitations:
Only cell values are supported, i.e the actual text or values in the cell not formulas or lookups
Images are not supported
Objects such as smart art or charts are not supported