This Article relates only to the Breeze Site Administrator.
Multiple users can be created simultaneously by using a CSV.
Note: Prior to adding new users, ensure that you have enough Standard and Lite User Licenses available to cater for the new users in your CSV file.
1) Update the linked CSV file below by adding the user details & their required permissions.
If your site is Single Sign-on please download the file labeled Bulk User Import SSO. If your users are required to log in to Breeze with an email and unique password please download the file labeled Bulk User Import FBA
2) Remove the Headers from the file - these are only supplied as a guide.
3) Click on the User Management panel.
4) Click on 'Bulk Add'.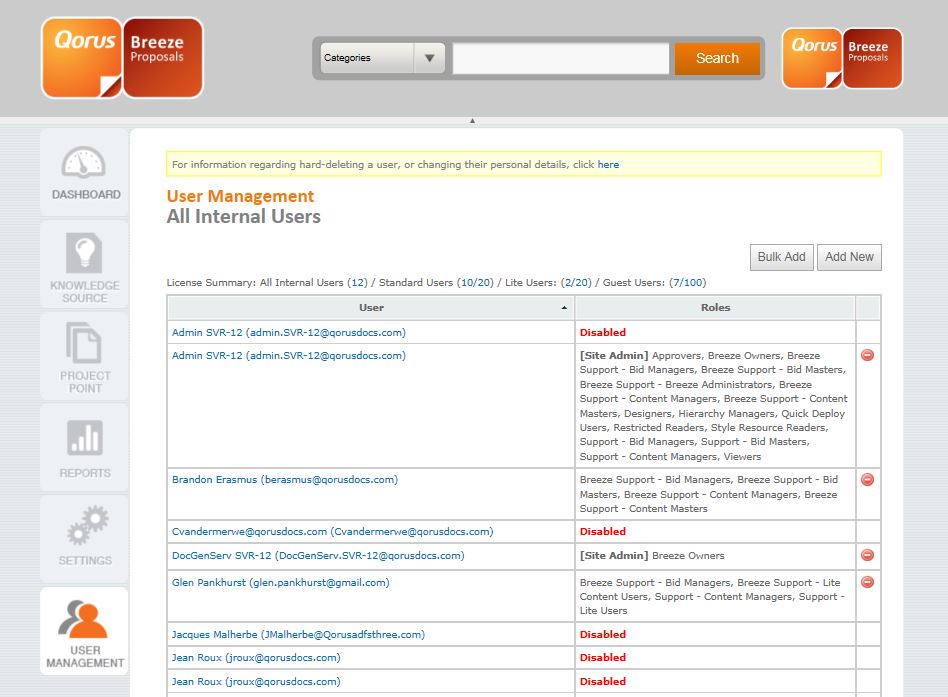 5) Click on 'Select a File' and locate the updated CSV file from step 3 (above).
6) Once the users have been added successfully, a message of the number of users added will be displayed. The User Management screen will also display the updated user list.

Note: The following error may occur when uploading the file: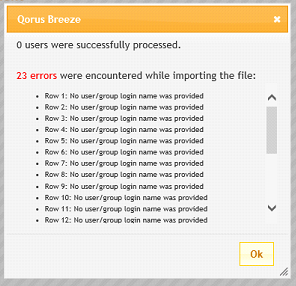 This error could be the result of the CSV being in the incorrect format.  To troubleshoot, open the CSV in Notepad and ensure that the data is separated by a Comma (,) and not a Semi-Colon (;).


Should you be using an On-Prem version of Qorus Breeze please contact the Helpdesk for the On-Prem version of the Bulk User Import Template.

Related Articles:
• For help on Understanding different user roles, please read the article here.
• For more information on Adding a New User, follow the step-by-step instructions here.