In order to eliminate issues that may arise when the Excel document is locked for editing (owing to SharePoint/Office co-authoring restrictions) all Excel Allocation that are marked as completed by the Team Member it was allocated to, will need to be published through the Publish Management interface.
The Document Owner will see the following tab on their Dashboard (for all Excel Allocations) and within their Project (for Project Specific Excel Allocations):

This interface will show the following:
Allocation Name

The name of the Allocation
Check Box

This will only be selectable if the Document State = "Ready"
By default this will be checked

Document Name - Name of the Project document which contains the Allocation
Document State - This displays the state of the document in terms of its availability to be published to

Ready: the document is available 
Open By: If the document is open and not available to be published to then it will display "Open by" and the User who has the document open.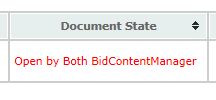 If the document is in an Open state then any Allocations from that document will not be able to be published

Status - This displays the publishing status of the Allocation (hovering over the ion will provide more information.

Awaiting Publish - The Allocation is read to be published
In Progress - The Allocation has been queued to be published
Failed - An error occurred while publishing the Allocation.
The document Owner can perform the following actions:
Refresh - This will refresh the status of all Allocations and Documents
Publish Selected

This will published the selected Allocations which will insert all contribution content back into the originating Excel document.
Publishing is an asynchronous process whereby the user can click the Publish button and the publishing of the allocation happens in the background, meaning the user can navigate away or close their browser.
In the event that all Allocations were successfully published the Publish management Tab will no longer be visible to the Document Owner
Related Articles: