This article applies to:
Bid Managers
Bid Masters
Super Users
Guided Carts allow you to quickly create Project Documents with a set of pre-determined content sections. 
In order to create a Project Document from a Guided Cart:
1) From within your Project view, click on 'Project Carts'.
2) Click the drop-down arrow next to 'New Project Cart'.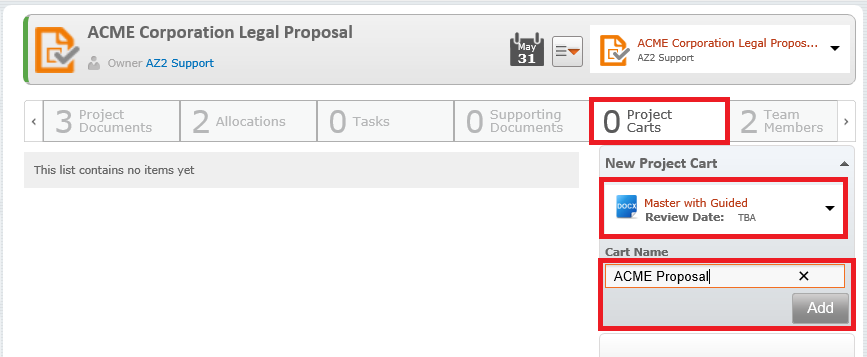 3) Select a Master Template from the drop-down list and Supply a Name for the Project Cart.
4) Navigate through the predefined sections (click Next and Prev to navigate through the sections), which will allow you to do a combination of the following:
Freely search the Knowledge Source, or
Search the Knowledge Source within defined search filters, 
Select from specific, predefined documents and
Select from the Project's supporting documents.
5) In order to add Content to the Project Cart, click on the Shopping Cart icon. Content that has already been added will have a check mark over the Shopping Cart. To return to the Project Cart, click on the Name of the cart: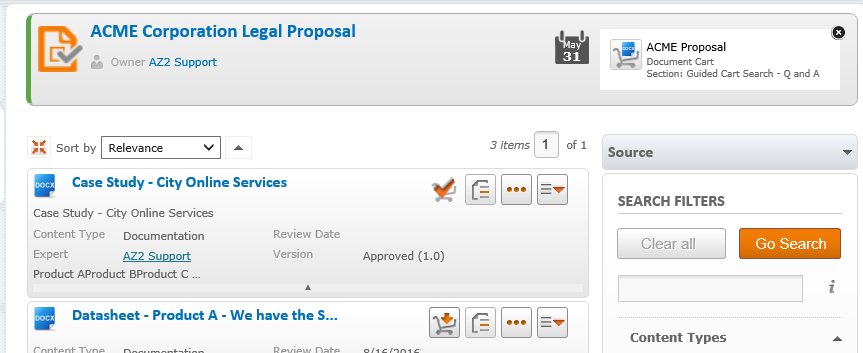 6) You can preview any of the content in the sections while building your documents, as well as doing a Live Preview of the document (Click the Refresh icon to refresh the Live Preview of the document).
| | |
| --- | --- |
| | Use the Refresh button to regenerate a Live Preview of your Project Document. |
| | Wherever it appears, the Preview Button can be used to view a Preview of the document/content. |
7) Once done, supply a Name and click on Check Out in order to View the document and add it to the Project.

For more help on Understanding Project Point, please read the articles here. Related Articles:
For more information on Building your Project Document from a Project (Guided) Cart, follow the step-by-step instructions here.