If a Project task is assigned to a user who, for whatever reason, is unable to complete it, the task can be re-allocated to another user.
To Re-Allocate your task from the Breeze Dashboard:
1) Open the Dashboard, click on the My Tasks tab.
2) Click the task to Open it.
3) On the Assigned To drop down, select another user and click Save.

Note: The user list will be populated with users who are part of the Project's team. 
To Re-Allocate a task from the Breeze Panel:
1) From within the Breeze panel, in Word, click Tasks.
2) Click the Task Name to open it.
3) Click the drop-down boxes for Contributor and, where applicable, Reviewer, and select the appropriate users.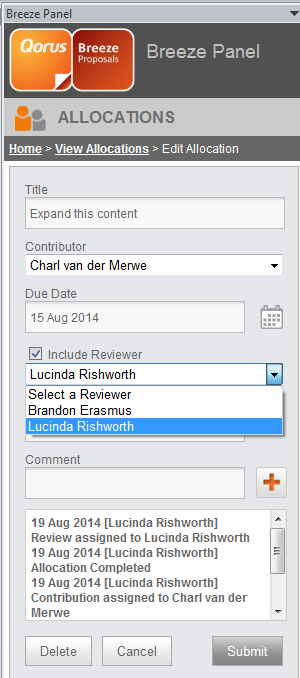 4) Click Submit.
Related Articles: 
For more information on Allocating Tasks to your team members, please read the article located Here.